Name: Emma Rutenberg
Class Year: 2019
Major: History
Hometown: Philadelphia
Internship Placement: American Philosophical Society Museum
Job Title: Curatorial Intern
Location: Philadelphia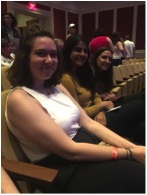 What's happening at your internship?
The American Philosophical Society is the oldest learned institution in the United States, and was founded by Benjamin Franklin in 1743 on the basis of promoting useful knowledge through extensive and innovative research in the sciences and humanities. The Society will celebrate its 275th anniversary next year, and the upcoming exhibition will focus on APS Members and the many important contributions they have made to their respective fields. I have been conducting research on a vast array of objects and manuscript collections related to such diverse fields as early American history, geology, exploration, industry, astrophysics, chemistry, biology, medicine, and archaeology. This research will help to determine what items, artifacts, events, or people the Society will showcase in the exhibition.
Why did you apply for this internship?
I'm a History major with two minors in Classical & Near Eastern Archaeology as well as Museum Studies, so museum experience is extremely important in my life and in my future careers. I hadn't had much exposure to Museum Studies before transferring to Bryn Mawr last fall (in 2016), so I wanted a great internship that would give me incredible experience in research, archival work, documentation, curatorial duties, and ways to show history to the broader public.
Was there anything special about how you found this internship?
My entire experience at Bryn Mawr has been incredible so far, and the search for my internship was one of the most salient ways I was reminded of Bryn Mawr's special, unique, and uplifting community. I had no real experience in applying for academic-related jobs, having only ever worked retail before, but the LILAC people I met with were so incredibly helpful and reassuring when it came time for me to write my updated resume and cover letter as well as search the database for internships. On top of that, I met with Monique Scott, director of Museum Studies at Bryn Mawr, who talked to me about the importance of museums in academia and in life. From her personal connection to Diana Marsh—one of the Mellon Fellows at the American Philosophical Society—she was able to give me a lot of insight about the internship, and simultaneously encouraged me to apply for it and supported me through the process, which I'm so thankful for.
Can you talk about the skills you are learning and why they are important to you?
Many of the disciplines I'm researching are areas of study I've actually never been exposed to but have always admired from afar, making the experience constantly rewarding and always very interesting. Most of the classes I take have more to do with ancient civilizations and history, so I normally don't have the time or opportunity to research things like terrestrial magnetism, astronomy, or space exploration in such depth, and it is extremely fulfilling. By reading through rare archival manuscript collections, I've been introduced to so many incredible materials, people, and events that have come from the American Philosophical Society, as well as the importance of displaying these people and ideas to the general public.
I've also learned so much about the types of work that occur in museums and libraries — whether that involves documenting sources, handling rare and delicate items, going down rabbit holes to find thematic connections between people or events, or simply brainstorming ways to showcase important ideas in a museum exhibition. I feel that the work we're doing is important, and it also exposes us to the very real and prominent issues of racism, misogyny, and colonialist mindsets that are inherently intertwined into the histories of old, learned institutions such as the APS. In these ways, I have loved the feeling of being able to have an effect on the way people will be able to view, learn about, and connect with history from many eras and disciplines.