Name: Yezi Yang
Class Year: 2018
Major: Geology
Hometown: Wuxi, China
Internship Placement: Summer Science Research
Job Title: Student Researcher
Location: Bryn Mawr College; western Mongolia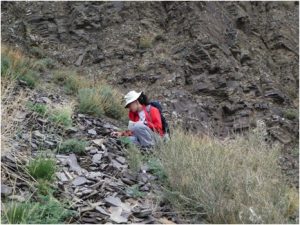 What's happening at your internship?
My summer internship includes both lab work in the geochemical lab and field work in western Mongolia. For the first month of the summer break I continued my last year's research on Calathium fossils collected from Lower Ordovician Fillmore Formation, western Utah. I mainly worked on the role of a kind of clotted fabrics pervasive in reef-building Calathiums through cathodoluminescence and elemental abundance analyses.
In the middle of July I went to western Mongolia with Prof. Pedro Marenco and Katherine Marenco for two weeks of field work with an international team. We looked at trace fossils and microbial reefs from the Precambrian to Cambrian Period and collected multicellular algae fossils from an Ediacaran BST deposit.
Why did you apply for this internship?
A few questions such as the clotted fabrics and the alteration history were left unanswered from my last year's research on Calathium morphology, and this internship gives me the opportunity to learn and use geochemical techniques to help solve them.
What has been your favorite part of this internship?
The western Mongolian field trip because it is a wonderful field experience in every aspect! I genuinely love the field work, the fossils, the food, the views and the people I worked with. It was amazing to walk among the mountains of Precambrian and Cambrian rocks. The sedimentary strata are like physical time records that I can feel and touch. Walking from one formation to another is literally traveling through time. Everything was perfect except that this time we did not come across the spotted flesh flies which laid eggs in a student's eyes last year.
Can you talk about the skills you are learning and why they are important to you?
I received lots of training in the lab and learned about lab skills such as cathodoluminescence microscopy and elemental abundance analysis using geochemical signatures like Sr and Mn. I also got trained on data processing and learned how to correct data drifts. These skills helped me investigate the alteration history of Calathium fossils and will surely be useful in my future lab work.