Name: Tessa Haas
Class Year: 2018
Major: History of Art (minor: Museum Studies)
Hometown: Potomac Falls, Va.
Internship Placement: American Philosophical Society Museum
Job Title: Curatorial Intern
Location: Philadelphia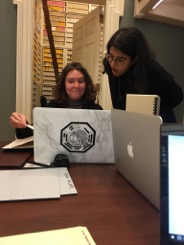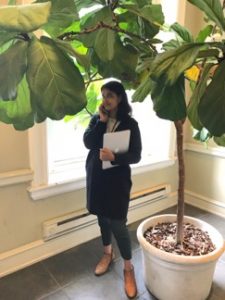 What's happening at your internship?
I'm spending this summer at the American Philosophical Society's Museum in Old City. APS is the oldest learned society in the United States, with the mission of promoting useful knowledge in the sciences and humanities through scholarly research, publication, and community outreach. I'm conducting archival research on objects and manuscripts from APS' collections, for their upcoming 275th anniversary exhibition opening April 2018. The breadth of research has been very wide, and conducting research each day has been rewarding. Aside from archival research, which takes up the bulk of our time, we are also learning how to use new programs, such as FileMaker, will be conducting a visitor study in the museum next week, and networking with various staff members at both the APS Museum and Library. As a "museum person," it's exciting to come into work each day with new tasks (whether that be on researching different subject-matter, or otherwise).
Why did you apply for this internship?
The opportunity to work on such an important, large show is an incredibly rare and unique one, especially as an undergraduate! I also wanted exposure to a smaller museum environment in Philadelphia. As a History of Art major, I absolutely love working with art institutions. However, I wanted to broaden my scope of knowledge within a unique setting. APS is an institution that values art within its collections, along with many scientific and historic objects and manuscripts.
Was there anything special about how you found this internship?
One of my advisors, Monique Scott, recommended this position to me. I'm a transfer student and began studying at Bryn Mawr last Fall (2016). Last Spring, Monique was my advisor as I completed a PRAXIS internship at Special Collections/PAFA. She advocated for me to get this position at APS, and I'm very thankful for her support in that. Starting off as both a first-year and upperclassman student was daunting at first, but professors like Monique helped me feel incredibly supported in my academic endeavors.
What is something you have learned from your internship that you didn't expect?
I started this position assuming it would be like other curatorial internships that I've completed at arts institutions. However, the American Philosophical Society is an academically rigorous one; therefore, the scope of the APS' 275th anniversary show is incredibly vast. I've conducted research using collections related to Anthropology, Paleontology, the Founding Fathers, Medicine, Terrestrial Magnetism, Industry, Exploration, Astronomy, and the Arts. We go through these collections and select objects that highlight the incredible contributions of APS Members across disciplines, from its founding in 1743 through the present. Sometimes there are also themes that come up when studying history, such as colonialism, ethnography, institutionally complicit racism and misogyny, and more. Learning how to talk about these subjects in the frame of a museum exhibit has been an incredibly interesting and rewarding experience, and one that was a happy surprise. In classes, I often study and discuss the theory of institutional critique. To go out into the field and curate an exhibit that tackles these difficult subjects is amazing.