Name: Abigail Haakyung Lee
Class Year: 2019
Major: Computer Science and Mathematics
Hometown: Gwangmyeong, Republic of Korea
Internship Placement: Paires友舍
Job Title: Product Marketer
Location: Beijing, China
What's happening at your internship?
So many things are happening at my internship. The company that I work for is based in China and it is a startup with five full-time employees and two part-time workers. I have been here as an intern since June 4 and saw many other interns coming in and out during my stay. I am here as a product marketer, which my boss would like to call me as a "brain" of the company. I develop products and prototypes of some services that the company can possibly sell soon that aims to provide services and systems for customers who use our services. Since things are changing so fast in the Chinese market, especially in a startup environment, the business plan that I read on my first day is in a process of modification on my fifth week here.
Why did you apply for this internship?
I started learning Chinese when I first came to Bryn Mawr. I wanted to learn more about the Chinese language and fully expose myself into the culture by living in the center of the capital city of China. I also wanted to experience the culture of startup, as Bryn Mawr has given so many positive strong impressions by letting me be a part of small but strong and close community. I wanted to build strong relationships with people I meet here at my internship and wanted to work in an environment where communication is the utmost important factor.
Living in a new city? What has that experience been like for you?
My home in Korea is also in a suburban area, and we all know Bryn Mawr is in a very safe and quiet town.
Getting to live in one of the busiest cities in the world, my heart pounded and I was full of curiosity and questions about the people I will get to meet and the work here and the lessons I will get to learn in the next few weeks. Beijing is full of interesting places with long history and abundant artwork full of liveliness. One of my goals before coming to Beijing was never to stay in my dorm on the weekends. Whether I was tired or not, I told to myself never to stay where I was, but explore the bigger world and the taste of Beijing as much as I possibly could. On my first weekend, my colleague first took me to a graduation exhibition at one of the top art schools in China. I was not only able to feel the abundant and rich culture, but the infinite creativeness of Chinese young artists who would, or currently, lead a new wave. I also got a chance to hang around and go bowling for the first time with my colleague's friends. Last week, I went to historically famous landmarks in China like Summer Palace and the Great Wall. Not only am I experiencing a city life with my new friends here, but also I am visiting renowned historical places and getting to know Chinese culture more.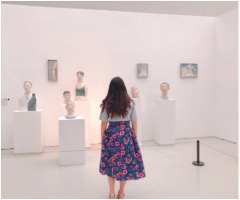 Was this internship what you expected it to be?
I wanted to spend my summer writing some codes and develop a website to refine and develop my programming skills. But I am learning more than I expected and experiencing a so much bigger world than I have imagined. Rather than some hard skills that I wanted to develop, I am developing soft skills in so many diverse perspectives that I could not ask any other place to give me such experience. I have been currently developing a new dashboard for the company's operations team to use, but this plan has been expanded so much that now we are planning to make this platform available to other customers by adding the following purposes: providing clear and transparent services, offering convenience for users, especially for the operations team, and implementing new and auto mechanisms to maximize the user's experience. I have been working on this new dashboard product from the very blank page, and filling those blank pages with an idea followed by another really excites me, as all these features will take a step-by-step process that will ultimately end up in one product with all the purposes I first intended. I can't wait to see what other projects I am working on will be like at the end of my day, and I am truly excited for what other works I would encounter and what ideas would come out that could really help the company grow.