Name: Marie Mach
Class Year: 2018
Major: Double major in Russian and Classical and Near Eastern Archaeology
Hometown: Dumfries, Va.
Internship Placement: Capita Translation and Interpreting
Job Title: Project Management Intern
Location: Oldham, United Kingdom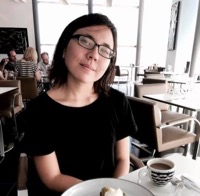 What's happening at your internship?
I'm currently interning at Capita Translation and Interpreting, a company that specializes in … translation and interpreting. However, there is so much more to the company than translation. In fact, we only have 2-3 in-house translators. What the company does, instead, is form links between companies and organizations that need translations completed, and qualified linguists that are able to help companies complete these translations.
Interns can work in different sectors — as far as I'm aware, there are a few interns currently working in the sales and finance departments. However, I'm working on the project management department. This means that I basically work as the middle man (woman?) when helping a company get a translation done. For example, I'm currently working on a project for a well-known Middle Eastern airline that needs translations done for the Brazilian Portuguese version of their website. For the past month, I've been working with Brazilian translators to ensure that different sections of this company's website are translated from Arabic and English into Brazilian Portuguese. As this is going on, I keep in contact with the airline's office in Dubai to make sure that their translation goals are being met. This is only one (and admittedly, a quite large) aspect of my job. I also conduct checks on bilingual files meant for publication. For example, if a Russian clothing company wants to advertise in the U.K, I compare the original Russian and the English translation side by side, searching for poor translations, improper formatting issues, or other mistakes that could cause issues for the client in the future.
Why did you apply for this internship?
I've always been interested in translation as a discipline, particularly literary translation. However, I had no idea how the commercial translation industry worked, so I thought I would take a look and learn as much as I could about it. Commercial translation makes up such a large part of our world that I thought it would be foolish for a language student to not have any idea how it worked. Also, as a student studying archaeology (and as someone who would like to continue studying archaeology in the future), I thought that it would be wise to gain some skills in the business world. This company is linguistically diverse, which I absolutely adore. Almost every employee is bilingual, if not trilingual! But, it has also taught me how a large business operates, and what skills are needed to keep it in going. Hopefully, I can use these project management skills in a future career!
Was there anything special about how you found this internship?
Over winter break, I simply did a Google search for different translation companies in the U.S and the U.K. At the time, I had no idea that most translators were freelancers — I assumed that working in the language industry would involve sitting in a room full of translators translating documents for their respective clients. When I realized that I couldn't find an internship as an actual translator, I decided to take the plunge and apply for an internship in the project management department of Capita Translation and Interpreting.
My advice is to try something new. If you're having a difficult time finding an internship in your field, try to branch out and look for something that may be similar, but not exactly what you had been aiming for. I was aiming for translation, but ended up in project management. But, I have no regrets — I've learned so much about the language industry this way.
Was this internship what you expected it to be?
I had no idea what to expect going into this internship, despite reading about what project management entailed. Would I be doing mainly administrative tasks, or would I be working on projects closer to what an actual project manager would? It turned out to be a mix of both; in the beginning of my internship, I was assigned mainly administrative tasks. However, as time progressed, I began taking on larger and larger projects, while at the same time working on more minor tasks. I consider this to be an ideal mix — I was able to gradually dip my toes into the world of project management and the language industry. My supervisors didn't throw me into the deep end on my first day, thankfully!