Name: Rachel Terry
Class Year: 2018
Major: Math
Hometown: Cardiff, Calif.
Internship Placement: Faviana International
Job Title: Production Intern
Location: New York, New York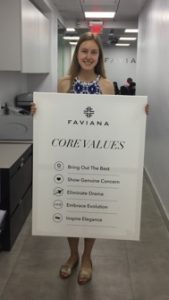 What's happening at your internship?
Faviana International is a dress company that specializes in special occasion and prom dresses. I am learning all about the production life cycle as we prepare for a very important trade show in Atlanta, Georgia in August. The Production team works very closely with the Design team. On a daily basis, I am in charge of logging and photographing new samples and swatches when they arrive. I am also working on a demographic research project. I have taken inventory of the showroom, worked with purchase orders and shipments, helped out during a photo shoot, run errands at the fabric store, and attended company-wide and department meetings. I use Excel on a daily basis and am strengthening my skills.
I am working with the dresses a lot more than I expected, which is a nice surprise.
Why did you apply for this internship?
As a math major, I am interested in pursuing a business related career. Since there is a business side to any industry, I thought that it would be very interesting to experience the business side of the fashion industry. I am really enjoying it and still working towards that goal.
What has been your favorite part of this internship?
I am truly enjoying my internship. Being part of the production process and this company as a whole has been a very enjoyable experience. The days go by very quickly, and the people are extremely friendly and helpful. The mission statement (to help women feel good and celebrate themselves) and core values (bring out the best, show genuine concern, eliminate drama, embrace evolution, inspire elegance) play a very important role in shaping the culture at Faviana which is an aspect that I really appreciate. Throughout the day, I am greeted by name by the other employees, which is a simple but thoughtful acknowledgement that I have noticed is lacking at Bryn Mawr.
Living in a new city? What has that experience been like for you?
Living in New York City has been wonderful! I am staying at the Webster Apartments on 34th Street, which is a residence for working women. It is similar to the dorms at Bryn Mawr and has given me the opportunity to make a lot of international friends. I now have a lot of girls to visit when I go to England, Holland, and France! With these new friends, I have done a lot of activities and visited many places that I never would have considered on my own. I am also appreciating the homework-free weekends!