Name: Ekaterina Olson Shipyatsky
Class Year: 2019
Major: Independent Major in PPE: Philosophy, Politics, Economics
Hometown: Denver, Colo.
Internship Placement: Think Tanks and Civil Societies Program, University of Pennsylvania
Job Title: Research Intern
Location: Philadelphia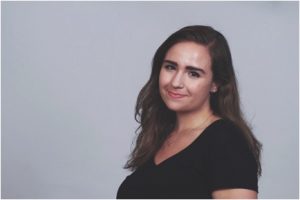 What's happening at your internship?
The Think Tanks and Civil Societies Program at the University of Pennsylvania, known sometimes as the "think tanks' think tank," analyzes the role of think tanks in the policy making process in governments and civil societies. Us interns are each assigned to a data collection team that works on updating contacts and addresses for regional groups of think tanks and a research team that analyzes think tank data and works on collecting information for TTCSP's Global Go-To Think Tank Index. I am on the Central and Eastern Europe Data Collection Team and have been working on collecting data on and contacting think tanks in Russia and Ukraine. I am also on the International Law and Global Governance Research Team, where I work on a wide variety of projects ranging from making PowerPoints on changes in global governance since World War II to analyzing new think tank activity in 2017.
Why did you apply for this internship?
I applied for this internship because I am interested in and care deeply about the work that think tanks do and the role they play in society. Think tanks, the way I see them, function as agents that reflect on the actions of their given governments and societies. I believe that work is incredibly important in preserving governmental ethics and transparency. Because of this, I am very interested in studying the role of think tanks and would love to eventually work for one one day.
What is something you have learned from your internship that you didn't expect?
When I was initially assigned to the Central and Eastern Europe Data Collection Team, I did not expect to be communicating directly with think tanks in the region. However, in the data collection process, we were asked to email think tank directors directly. Though I speak Russian at home, I had never been taught how to use the sort of formal, academic language required of the task. Emailing Russian think tank directors gave a command of an area of the Russian language I had not previously had.
Can you talk about the skills you are learning and why they are important to you?
This internship involves both a lot of individual and a lot of group work. Interns have to work closely with other people in their research and data collection teams, but are largely responsible for doing their own work on their own time. This unique setup has allowed me to build both my group communication skills and my skills in independent self-direction. Both of these are important skills both for my academic work and in the field of academic research and writing, which I hope to work in eventually.