Name: Diamond Ray
Class Year: 2018
Major: Linguistics, Minor in Spanish
Hometown: Philadelphia
Internship Placement: American Civil Liberties Union of Pennsylvania  (ACLUPA)
Job Title: Intern in Legal Intake, Duvall Project, and Development
Location: JFK Boulevard, Philadelphia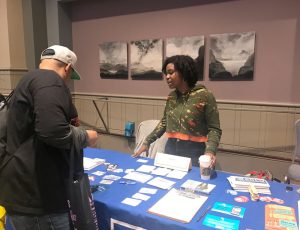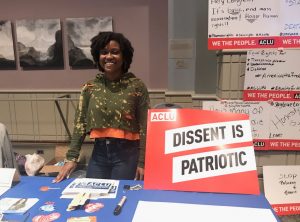 What's happening at your internship?
I actually just finished my internship earlier this week. While there I did many different things. I worked with legal intake, which involved me reading legal complaints and summarizing them for the legal department. I often read letters, emails, and had phone conversations with people who felt that their constitutional rights had been violated. This aspect of the job was both interesting and emotionally exhausting. I learned how to speak on the phone with people who felt that they had been wronged by their country. Although I was afraid at first I became comfortable engaging in these sometimes unforgettable exchanges. I also worked with reproductive rights which, which was the Duvall Project. This included collecting data on state representatives and legislation as a means of strategizing the next steps in lifting abortion bans and other issues associated with women's health. I tabled at the HIV/AIDS Prevention Summit and the Prison Healthcare and Reentry Summit at the convention center. Lastly, I helped the development department by taking minutes at the bi-monthly ACLUPA executive board meetings.
Why did you apply for this internship?
As a low-income Black undergraduate from Philadelphia, I have experienced the positive and negative effects of government legislation for the better and worse. I have worked with advocacy and social justice before as a Community Diversity Assistant, and as a facilitator for Dimensions of Diversity. These experiences taught me that civil rights and social justice were always important to me. I applied to intern with the ACLU because I was interested in learning the nuts and bolts of this type of work on a statewide scale.
Was there anything special about how you found this internship?
Prior to hearing about this opportunity I had never heard of the ACLU. Immediately after starting I learned how instrumental the organization was and continues to be in protecting the civil rights of Americans.
Can you give us three adjectives and three nouns that describe your internship experience?
Deliberate, relentless, patient and freedom, dissent, power