Name: Nayanthi Peiris
Class Year: 2018
Major: Economics
Hometown: Colombo, Sri Lanka
Internship Placement: Global Fund for Children
Job Title: Programs Intern
Location: Washington, D.C.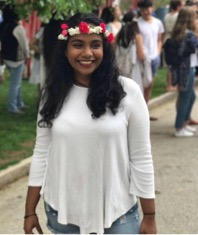 What's happening at your internship?
At the Global Fund for Children (GFC), the interns are immediately fully incorporated into the systems and processes. Thus, I have been able to attend staff meetings and be a part of the work that goes into running a nonprofit and GFC in particular, which has provided me with the great opportunity of gaining an insight into the inner workings of a nonprofit organization. I have also been able to attend an event at the World Bank on the economic impact of child marriage, which was extremely enlightening.
This summer there are two interns at GFC and we have been assigned a few joint projects to tackle together as well as individual projects that were assigned to us based on our interests. Accordingly, I have been working with the Asia regional team conducting preliminary scouting research on South Asia. I will also be writing a few blog posts to highlight the work of GFC's grantee partners in the region.
Moreover, I have also been working on creating a composite index and conducting regression analysis to measure the effectiveness of the specific services GFC provides to their grantees.
Some of the joint projects include putting together certificates and welcome packets to send to all of GFC's partners for the financial year 2016 and taking on a project to assess and propose methods to improve the level of health and wellbeing in the workplace.
Why did you apply for this internship?
In the process of researching and applying for internships, I came to realize that I had been subconsciously filtering out most for-profit companies and that a vast majority of the places I had chosen to apply to were in the nonprofit arena. I then remembered that a couple of my friends had told me about their summer internship at Global Fund for Children and that it was a LILAC affiliated internship. I started looking into GFC and the work they do and was drawn in by their model of fundraising and financing grassroots organizations on the ground. On speaking to my friends who had done this internship and hearing them speak so positively about their experiences, I decided to apply.
Living in a new city? What has that experience been like for you?
Living in D.C. has been an exciting experience so far. Although my time here has been riddled with more than its fair share of housing complications, I have also been able to reconnect with some former Mawrters, and explore parts of D.C. I had not been to before. Although the complications that arose regarding my accommodation for the summer were extremely taxing at the time, in retrospect I came to the realization that it resulted in me improving my problem solving skills.
For the remainder of my time here I look forward to further exploring the city, meeting up with new and old friends and finding more great restaurants.
Can you talk about the skills you are learning and why they are important to you?
Through my work at GFC I have been able to further improve my statistical and data analysis knowledge. Prior to this internship I had taken a couple of classes on statistics and econometrics, and I was extremely excited by the prospect of being able to apply that knowledge to solve real world problems. I am hoping that this practical knowledge will come in handy when I write my thesis next semester as well as when I am on the job search next year.
Due to the independence we are given as interns and the level of self motivation that is required, I have also been able to work on getting rid of my tendency to procrastinate as well as develop capabilities such as setting my own deadlines and meeting them.
Overall, my experience at GFC has been a great experience thus far and I look forward to learning more during my remaining weeks with GFC.