Name: Francesca Agnello
Class Year: 2018
Major: Anthropology
Minor: Italian
Hometown: Livingston, N.J.
Internship Placement: Canaday Library
Job Title: Digital Curriculum Intern
Location: Bryn Mawr College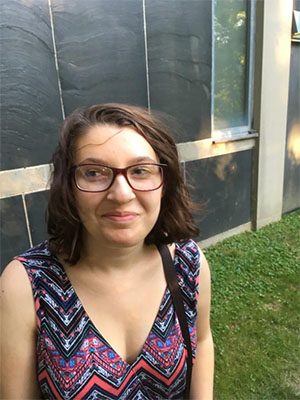 What's happening at your internship?
I've been doing a lot of tech documentation recently (specifically for the new version of Moodle), which is something I've never tried before and sounds pretty dry but is something I actually really enjoy. I've also started using Adobe Premiere Pro CC to edit videos about blended learning in the liberal arts; I've never played around with audiovisual editing before, either. There are three of us Digital Curriculum Interns, so we're all working together to solve problems, learn Premiere, and figure out BiONiC. We also work in the same room as the AR/VR Interns who are working with the HoloLens, so we DC interns are sometimes their guinea pigs for their apps, which is really fun (and also terrifying because my brain truly believes the holograms are real).
Why did you apply for this internship?
This past semester I was working with Alicia Peaker as one of her Digital Scholarship Research Assistants, and wanted to use this summer to continue honing my digital competencies. Alicia mentioned this internship to us RAs as the perfect way to do this. I was also really intrigued by the 9-to-5 work schedule, which is something I haven't had experience with.
What is most rewarding about your internship?
Even though I'm not directly helping anyone with this internship, some of the projects we're working on are meant to help future first-years make the transition into Bryn Mawr College by making educational tools (like Moodle and BiONiC) easier to understand and use. And since this internship is all about finding innovative new ways of teaching others, I'd like to think that some of our projects are going to help non-traditional learners succeed at Bryn Mawr as well as traditional learners. By advocating for blended learning, for example, we're supporting potential tools and technologies that could help BMC students learn in their own unique ways.
I also think that by being the "guinea pigs" of the college's efforts to bring digital competencies to the forefront of campus awareness, we can offer valuable insight into how these efforts can prove the most effective. And understanding these competencies is important not only because they're great to vocalize on resumes and cover letters, but because they also help us recognize our own learning processes.
What is something you have learned from your internship that you didn't expect?
So far, I've had two major "ah-ha" moments in this internship. My first occurred when I was on my lunch break running some errands for myself. I was walking back from Campus Safety (to get a parking permit for my car) and I suddenly realized that this was the first time where, during a work-laden week, I used my lunch break to do something for me instead of rushing around getting to class, frantically finishing up a reading, or printing an assignment. I was doing a chore that I needed to do, but it didn't have the same sense of desperate urgency that my academic duties have. And I realized in the parking lot behind the Campus Center that I really, really enjoy having a 9-to-5 schedule, where my lunch breaks are my own and when I leave work at the end of the day, I actually have some time for myself.
My second epiphany came when I was learning how to use Premiere. I had never used such comprehensive video-editing software before, so suddenly having to edit video and audio with video overlays and face-blurring was quite daunting. To prepare, I watched an hour-long tutorial on Lynda.com and tried my best to follow along in the program. And after I watched around 40 minutes of it, I grew too frustrated to continue the tutorial. So, I just went for it. Luckily, my two other DC coworkers had also just learned the program a few days prior, so they were able to answer questions I had. And I'm proud to say I picked it up a lot quicker than I anticipated. When I was marveling how fast I had learned to use such a program, I realized that had I needed to learn the program to do an academic project with a strict, set deadline, I would have been too stressed and frustrated to actually learn the program. With these editing projects, however, there are flexible deadlines because we are also responsible for other projects at the same time. And because of this flexibility, I was able to begin learning without anxiety. Long story short, this epiphany taught me how I actually learn (and "Metacognition and Life-Long Learning" is one of those digital competencies I was talking about!). During the school year, I don't have the time nor the energy to reflect upon my learning process, so this internship has already taught me about myself in under two weeks!