Name: Maryanne Kihiu
Class Year: 2019
Major: Biochemistry and Molecular Biology
Hometown: Kiambu, Kenya
Internship Placement: MD Anderson Cancer Center
Job Title: College Student Research Assistant
Location: Houston, Texas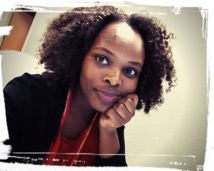 What's happening at your internship?

This summer, I am interning in MD Anderson Cancer Center with the department of Experimental Therapeutics. I am working on in vitro experiments that investigate the effects of Ibrutinib on specific proteins in cell-lines. Ibrutinib is a newly approved drug used in the treatment of Chronic Lymphocytic Leukemia. Though Ibrutinib is very potent, its mechanism for action is not known. An in-vitro model, with a specific focus on protein changes in this case, allows us to investigate on one of the possible modes of mechanism of action of the drug.
Why did you apply for this internship?
I took a Biology of Cancer class in my Freshman year, which I found to be very eye-opening on what cancer really meant. This class mainly covered the biological aspect of cancer but I also wanted to know more about the treatment aspect. This internship provides me with that experience.
What is something you have learned from your internship that you didn't expect?
I have learned a few things that I had not anticipated. One of them is how research teams do internal presentations and give "harsh" critiques for papers written by team members when doing peer-reviews. The "harsh" criticism is not done with any malicious intent. Rather, it is done to ensure that the paper presented to the public has solid scientific backing. In addition to that, it helps the researcher to grow.
Can you give us three adjectives and three nouns that describe your internship experience?
Building, Insightful, Fun
Experience, Essence, Teamwork.