Name: Tu Luan
Class Year: 2018
Major: Computer Science
Hometown: Guangzhou, China
Job Title: CAAR student researcher
Location: College Park, Md.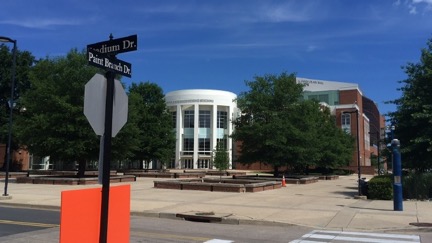 What's happening at your internship?
I am working as a student researcher in the University of Maryland, College Park under the instruction of Professor Khuller. During the previous weeks, we studied algorithms from several papers about scheduling problems and I was assigned to work on one specific open scheduling problem. In detail, the problem is to assign a limited number of jobs to a specific period and each job is valid to be assigned only on its window and gain the optimal profit. This problem is a NP problem which means it could be solved in nondeterministic polynomial time. Our goal of this summer is to find an approximation algorithm which does not give the optimal solution, but instead, gives an approximation to the optimal solution which will save the runtime of solving the problem.
Why did you apply for this internship?
Since last summer, I was doing summer research with Professor Dianna Xu in the Computer Science Department at Bryn Mawr and I found myself enjoying doing research a lot. During the 2016-2017 academic year, I decided that I want to continue my research experience and apply for graduate school during my senior year. I consulted my major advisor and she suggested me to continue applying for another summer research program for summer 2017. Therefore, I searched for available REU programs online and found this program. On the first glance, it fitted me very well since I was interested in computer science theory more than anything else, and the program was about algorithms. Then I was sending emails to the coordinator of the program about eligibility and major requirements. The coordinator replied that I was qualified to apply and after that I applied for the program.
What has been your favorite part of this internship?
My favorite part of this internship is that I gain the opportunity of doing research in the area I love with a helpful and inspiring instructor. The program specially matches my research interests in computer science. My instructor, Professor Khuller, instructed me with his professional understanding on the problem we work on.
Living in a new city? What has that experience been like for you?
The experience is similar in one way and different in the other way from my experience at Bryn Mawr. The similarity is that both Bryn Mawr and College Park are close to big cities. Bryn Mawr is 20 minutes from Philadelphia and College Park is 30 minutes from downtown D.C. Therefore, for both cities, it is quite convenient to access everything that is available in big cities, for example, big shopping malls and some good restaurants. I enjoy such access to big cities a lot during my time at College Park. The difference is that, the UMD campus is much bigger than Bryn Mawr Campus. And therefore, there are more stores and restaurants inside the university and I can find most of the popular cuisines inside or around the university. With a 10-minutes' walk I can access around 20 different restaurants and therefore there are more choices at College Park than at Bryn Mawr. Overall, the experience in College Park is great.