Name: Veronica Walton
Class Year: 2019
Major: English
Hometown: Cranford, N.J.
Internship Placement: New York Spaces Magazine/Exuberance Magazine
Job Title: Editorial Intern
Location: New York, N.Y.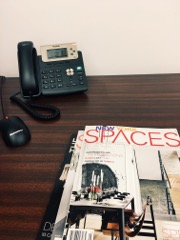 What's happening at your internship?
I am an editorial intern at Davler Media Company, working under New York Spaces, a luxury home décor magazine, and Exuberance, a Manhattan-based LGBTQ+ lifestyle publication. Mostly, I've been writing digital posts and print content for the magazines' websites, as well as copy-editing summer editions of the magazines in print. Over the past couple of months, I've had the opportunity to visit a few museum exhibits and leaf through exclusive press releases, which is super exciting. On top of that, I have been able to pitch my own stories and go "on the scene" like a real adult journalist! The program has been designed so that interns get to experience the ins and outs of the publishing industry: presentation, production, and editorial work.
Why did you apply for this internship?
I am interested in going into publishing or possibly journalism. A dream of mine has been to work in New York City, so what better place to start than on Fashion Avenue? I love the flexibility that comes with this internship, and I love being in an environment where creativity is encouraged.
What is something you have learned from your internship that you didn't expect?
Davler holds luncheons for its interns every Tuesday in a little gray conference room. Last week, Mediabistro's Zovig Garboushian spoke to us about finding a job in today's media climate, and how it's important that women in the industry advocate for themselves, forge connections, and go after what they want. I walked out of the luncheon examining my own values, determined to succeed in the future career of my choice — whatever that may be. Listening and learning from others have been vital to my experience here.
Can you give us three adjectives and three nouns that describe your internship experience?
Interviews, event coverage, and city noise; fast-paced, vibrant, and immersive.