Name: Elliott Mutschlecner
Class Year: 2019
Major: Sociology
Hometown: Stevens Point, Wis.
Internship Placement: William Way Community Center
Job Title: Development Intern
Location: Philadelphia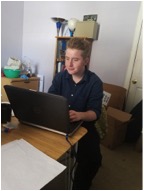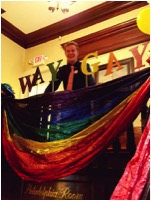 What's happening at your internship?
During my time at William Way I gained a diversity of experience and knowledge. When I first arrived in late May, the Center was preparing for their annual silent auction, and as a result I was able to see all the ins and outs that comes with organizing such a big event. I logged tons of information involving the auction items and donors, collected and wrapped auction baskets in an artsy way, volunteered at the event itself, and assisted in tying up loose ends when the event ended. Throughout the rest of the summer I actively participated in other special events. For instance, one of the other interns and I represented William Way at an outreach table for the opening of the first ever LGBT glass art show in America at the National Liberty Museum. There were quieter activities as well. By going through activities such as the grant writing procedure, processing membership donations, and collecting demographic information via survey, I discovered how much work it takes to cultivate strong relationships with members, donors, and grant funders.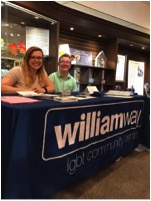 Why did you apply for this internship?
I applied to the William Way Community Center because I believe in the power of community. Whether one looks at our response to the Aids Epidemic or our successful campaign for marriage equality, it is clear the LGBTQ community is a force to be reckoned with. We are strong but we also remain vulnerable. In a time when suicide rates of trans youth have spiked, trans women of color are murdered at disproportionate rates, and LGBTQ elders face housing discrimination, food insecurity, and abuse, I feel strongly it is my obligation to stand up and fight back. While my passion is people, I realized I needed more tools in my tool box if I was going to effectively advocate for my community. I decided that this summer I would focus on developing my office-related skills through programs such as Excel, Sales Force, Mail Merge, etc. In addition to improving my ability to fight for my community, it also gives me a competitive advantage for later when I am looking for jobs. Experience in development and financial management are two areas that are sought out in the nonprofit sphere. Lastly, I applied because William Way is one of the base LGBTQ organizations and has historical significance, as it has been around since 1974.
Can you give us three adjectives and three nouns that describe your internship experience?
Queer-friendly | Development | Tightknit
Technology | Collaborative | Community
Was this internship what you expected it to be?
No. I thought that working on a computer all day would not be stimulating enough for me. In the beginning of the summer I remember telling myself that even if it got boring, it was going to pay off in the long run. I am a positive person so I knew I wasn't going to be miserable, but I was surprised that I did not once become bored with the work I was doing and actually found pleasure in the tech- and office-related tasks. Even when I performed monotonous tasks, I still found it entertaining. For example, I spent a significant amount of time plugging in data, and I found that the repetitiveness of such tasks felt therapeutic. I also was not expecting to be as close with my coworkers as I ended up being, and I'm looking forward to maintaining the relationships I made. I did not realize how much fun it can be to work in an office when you have coworkers who are easy to get along with.