Name: Angela Zhang
Class Year: 2019
Major: Chemistry
Hometown: San Diego, CA
Internship Placement: MD Anderson Cancer Center
Job Title: Summer Student
Location: Houston, Texas
What's happening at your internship?
For 10 weeks this summer, I have been working on a research project in a genetics lab which will culminate in a poster presentation. The lab's focus is on the p53 gene pathway, a major breakthrough in cancer research since mutant p53 is a hallmark of many cancers. My specific project lies in the field of onco-immunology and involves analyzing and comparing different tumor microenvironments of mice tumor tissues with different genetic makeups by microscope. To create the microscope slides, a process called immunohistochemistry is used to amplify the immune cell or protein of interest. After images are taken of the tissues, a program called ImageJ is used to quantify the desired cells or proteins present.
Why did you apply for this internship?
I applied to when internship when I received an email from LILAC stating that two positions were available for Bryn Mawr students at MD Anderson. I decided it would not hurt to apply in addition to the other research programs I was applying to. Although I had not taken any biology classes during my time at Bryn Mawr, I thought that it was a good opportunity to experience work in a research lab.
What is something you have learned from your internship that you didn't expect?
I learned that I have the tools and skills I need to dive into a research area I am unfamiliar with. Despite my lack of knowledge in biology, I quickly learned the basics of onco-immunology and the p53 pathway within the first few weeks of my internship. My mentor provided me with relevant papers to read, and I looked up journal articles in my free time. I also had to quickly learn many research techniques required for my project, which involved learning how to deal with constant failures and mistakes with experiments. Good communication with my mentor helped to mediate the unavoidable conflicts that would come up in the lab, and learning to view these events as learning experiences was useful as well.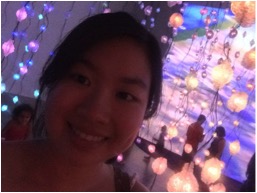 Living in a new city? What has that experience been like for you?
This internship is the first time I have lived away from my family for an extended amount of time outside of school. The first few weeks were overwhelming since I had to learn how to ride the buses and shop for groceries, but I got the hang of it quickly. I learned that I really enjoy buying food and cooking for myself. The heat and humidity as well as thunderstorms took some getting used to, and I got so many mosquito bites I had to buy bug spray. The city has a lot to offer, and I liked to spend my weekends in the museum district and watching free (!) performances such as Pippin the Musical and Twelfth Night at the outdoor theatre. The image above is from the Pixel Forest installation by Pipilotti Rist at the Museum of Fine Arts, Houston.