Name: Virushi Shah
Class Year: 2018
Major: Mathematics
Hometown: Bombay, India
Internship Placement: Thorro LLC
Job Title: Business Analyst Intern
Location: Piscataway, N.J.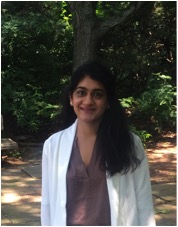 What's happening at your internship?
Thorro LLC is a boutique management consulting firm. Every day we do and learn something new. Right now, I have been assigned to create business models for a client about investigating potential emerging technologies.
At the same time, I have been assigned to come up with different marketing strategies and prepare proposals for implementation for the same.
Why did you apply for this internship?
When I was applying for this internship, Thorro LLC stood out, as though it was a consulting company, it believes that technology is the key to the future. They strive to keep up with technology and integrate it within their firm.
Logic, numbers, creating models are some of the things that truly fascinate me. How one person can forecast the future and be able to tell you where "x" market will be in say 20 years and these aren't just guesses but, have logically flow behind it. It has always been my dream to work as a business analyst, being able to this in the United States would give me a different exposure as I am from India. Therefore, I applied here.
What has been your favorite part of this internship?
My favorite part about working here, at a small firm, is that my ideas and opinions have so much importance and don't just fall away. Another intern and I had this idea about changing up their website and once we pitched it to our supervisor, in the couple of hours we were discussing our ideas and implementation strategies with the CEO for the same.
At the same time, I love the independence given to me. Once I have discussed the main topic of my model, I have the freedom to carry it out and work on it, in any way I see fit, without being constantly monitored or being told how to execute it.
Can you give us three adjectives and three nouns that describe your internship experience?
The three adjectives the I would describe my experience would be: Fast-paced, Innovative and Exciting
The three nouns the I would describe my experience would be: team, exposure and reality.