Name: Mimi Benkoussa
Class Year: 2019
Major: Computer Science w/ Statistics minor
Hometown: Glastonbury, CT
Name: Madeline Perry
Class Year: 2019
Major: Psychology
Hometown: Baltimore, MD
Name: Nathália Santos
Class Year: 2018
Major: Economics and Political Science
Hometown: Rio de Janeiro, Brazil
Name: Claudia Zavala
Class Year: 2020
Major: Cities
Hometown: Houston, Texas
Internship Placement: Digital Scholarship Program
Job Title: Digital Scholarship Summer Fellows
Location: Bryn Mawr College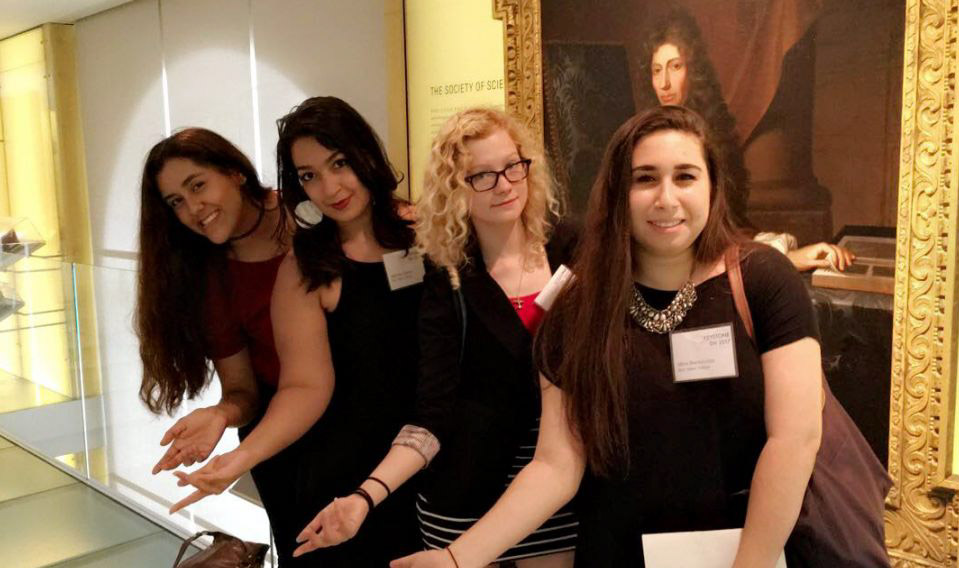 As part of our fellowship we have learned HTML, CSS, and JavaScript, used Python to create a web-scraper, applied management and cleaning techniques to "dirty" data-sets, and are currently creating our own website to house a data visualization project based on the collegewomen.org collection.
Just like our own cohort, our reasons for applying to this fellowship were varied. Mimi has always been interested in data and how it can be used, and was curious about the broader, "real world" applications of computer science and saw the fellowship as a way to apply her skills to a new and unique project. Madeline, on the other hand, has always been interested in computer science but has never pursued it. This fellowship has offered her the opportunity to develop her coding skills while working on a multifaceted digital project. For Nathália, the Digital Scholarship Summer Fellowship offered her the opportunity to continue to develop the skills she acquired as a Digital Scholarship Research Assistant during the spring semester, and to expand upon her knowledge of the Digital Scholarship field. As a Cities major, Claudia has an interest in how people interact with the spaces around them. This fellowship has allowed her to consider how a team of developers can bridge the gap between digital world and the people who engage with modern technology every day, and furthermore been a chance to explore how scholarly research can be displayed through data visualization, HTML, and CSS.
Being able to speak with Interactive Mechanics and Bryn Mawr Special Collections has been one of our favorite experiences, as we were able to see how collegewomen.org was built through collaboration. The Digital Scholarship Summer Meetup (which we hosted here at Bryn Mawr!) was also eye-opening, as we were able to talk to other students about their projects and see how digital tools allowed them to fulfill their research interests.​ Website creation has been another one of the most engaging and fun parts of this fellowship — it is so satisfying to see your hard work become a usable, tangible interface that people can interact with!
Let's also not forget the fact that we have a lot of creative freedom regarding the direction of our data visualization project. We learned and applied various project management skills in order to take charge of the project and make it uniquely ours. It now reflects all of our talents and abilities, and displays our own visual interpretation of the contents of the collegewomen.org collection. One of the most rewarding things about this fellowship has been its collaborative aspect. Because we all come from diverse backgrounds and have different academic interests, we all bring unique strengths to the table and are constantly learning new things from one another.
We have spent significant time this summer learning and perfecting our CSS and HTML proficiency, which we believe will be immensely helpful in our future career paths. ​At the beginning of the fellowship, a few of us had doubts about the extent to which we would be able to contribute to this team project. Throughout the course of these eight weeks, however, we have acquired the skills to create a website from scratch and to clean large datasets. Moreover, we have learned about web scraping, web design, user experience, and video editing. This fellowship has allowed us to think critically about the digital tools available to us and programming languages needed to build a project. Prior to participating in this Fellowship the multi-layered process required front-end development was still a mystery, yet as the summer progressed, we were able to truly engage in this procedure by learning how to choose our audience, create design modules, web scrape, clean data, and write web functions.