Name: Sanam Sheriff
Class Year: 2018
Major: Creative Writing
Hometown: Bangalore, India
Internship Placement: GirlFoward
Job Title: Teaching Intern
Location: Austin, Texas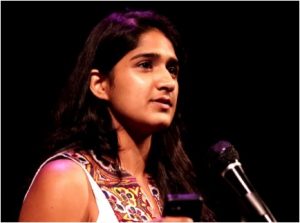 What's happening at your internship?
My internship this summer is with GirlForward. They are an organization that runs a range of different programs to help teenage refugee girls from all over the world who are resettling in America. Once here, they all enter regular public high schools in the states, and the gaps and distances to be covered — be that language, culture, religion, race, gender and politics — are vast. I am a teaching intern at a Camp GirlForward which is a 6-week summer program designed to help teach the girls English, begin and facilitate conversations around identity, and get them better acquainted with the city and how to navigate it. We have campers from Syria, Afghanistan, Burma, Congo and Pakistan, to name a few. Every day, we plan and run different activities, and every day, all of us emerge having learnt something new and valuable.
Why did you apply for this internship?
The modern refugee crisis is just that — a crisis. The brutal realities of so many people displaced and persecuted around the world should not be able to coincide so seamlessly with the luxury and comfort in so many of our lives. GirlForward beautifully combines my will to contribute and help this cause with my passion for the empowerment and education of women. I applied to this internship because I knew it would be meaningful work that would propel my growth as an individual and invest my time in a manner that is not tangible or quantifiable, but transformative nonetheless.
What has been your favorite part of this internship?
My favorite part of this internship has been forming and building my relationships with the girls. Our stories and lives have been so different and far apart, yet, there is something so amazing about the way we can join hands in a space of community and love. To earn their trust has been most rewarding. To share my own culture with them, and in that transaction, learn more about theirs, has continuously challenged and shifted my perspective. To witness them learn about themselves in a way they haven't experienced before, to offer them ownership of their bodies and minds and belief systems in a way that brings them pride and self-worth, is work I will never get tired of pouring myself into. It has been a humbling and constant growing experience to get to know their stories, and it makes me so excited to think about the women they will become.
Can you give us three adjectives and three nouns that describe your internship experience?
Empowering. Challenging. Necessary.
Bridges. Perspective. Growth.