Name: Margot Wisel
Class Year: 2018
Major: Sociology
Hometown: Castro Valley, Calif.
Internship Placement: Sweet Farm Sanctuary
Job Title: Outreach, Development, and Animal Care Intern
Location: Half Moon Bay, Calif.
What's happening at your internship?
Sweet Farm Foundation is a very young nonprofit, and I am their first intern, so I have had the opportunity to do a wide variety of work guided by my areas of interest and their needs here. I love learning about animal care and interacting directly with all of our animal residents, but that only takes up a fraction of the time I spend on the farm. The rest of my activities involve everything it takes to build and maintain a young nonprofit organization. Fundraising and interacting with our donors and supporters is very important, so I have devoted time to communicating our appreciation, encouraging further support, and talking to other animal shelters and sanctuaries. Earlier this month I had a great conversation with the President of the Peninsula Humane Society! I took initiative in reaching out on more social media platforms by keeping our Twitter active and creating a Snapchat account, where I post stories following my daily activities with the animals and around the farm. This has ended up being one of the most rewarding parts of my internship. Sanctuaries have been a very important, positive part of my life for a long time, and I keep them in my life through their social media communication. Getting feedback from people saying my animal videos are the highlight of their day, or that they watch the story with a family member every day, and knowing that my own work is doing for them what other sanctuaries have done for me, is incredible.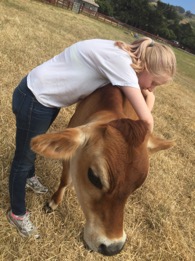 Some of my time is dedicated to administrative upkeep, such as filing and keeping our documents organized. Even the most tedious of tasks, however, are never really boring, as I have three partners in crime that keep me company in my office — Higgins the Chorkie (chihuahua/yorkie), Pow, and Oscar, the small dogs that live in the house on the farm property.
Why did you apply for this internship?
I have wanted to volunteer or intern at a farm animal sanctuary for over a year now. I have not eaten any meat for several years, but I have always had disagreements with vegan activism, and often animal rights or animal welfare activism as well. My interest lies in working towards sustainability and accessibility through education, and farm sanctuaries like Sweet Farm provide an opportunity to do just that, while rejecting the hostility and exclusivity that seems to be typical of so much vegan or animal welfare activism. We have a member's day open to the public once a month, and occasionally volunteers come for a day of service. I pour my energy into caring for the animals and researching environmental and ethical problems within the food industry, so that I can be better informed about my own choices and able to answer any questions visitors or guests ask on these days. One of my ongoing projects is compiling the information I find into educational reference guides, such as a sheet outlining and explaining the many welfare certifications eggs.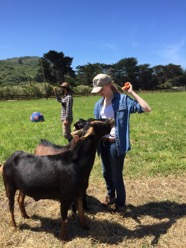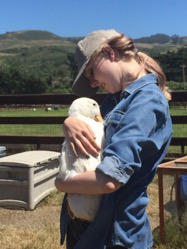 What is something you have learned from your internship that you didn't expect?
Farming! Sweet Farm is first and foremost an animal sanctuary even though "farm" and not "sanctuary" is in the name, but we also have an agricultural component as part of our work towards a sustainable food system. A few times a week, I go down to the fields with our agricultural director and help keep our crops healthy. The difference a few weeks can make is incredible! When I arrived, most of our plants were very young or not yet sown, and now the ground is bursting with sweet peas, artichokes, dahlias, beans, squash, sunflowers, and all sorts of other flowers and vegetables.
What has been your favorite part of this internship?
My favorite part of the day is probably the morning animal care routine — I go to the barn and let out the goats (Hoover, Alfie, Juno, Brownie, Butterscotch, and Nibblets, aka Mama Goat), then the sheep (Jupiter, Stella, and Hilo), and then the cows (Gizmo and our new calf who is yet to be named), and finally Paco the llama. Sturgis, our 34-year-old horse, does not get let out until the afternoon, but I make sure to check in on him while he has his breakfast. After saying "hi" to everyone and giving them some attention, I put out their hay and go down to the chicken yard. There, I feed the chickens (we currently have almost 60) and our three ducks (Lucky, Fred Waddlesworth, and Ethel Copperbottom), and put out fresh water for them to drink and play in. Along the way, I may get to see some of the cats that live on the farm (Farfield, Gretchen, Jackie, or Elsie). Whether I am sitting with Lucky the duck on a quiet afternoon, petting her as she falls asleep, or I am giving attention to our two most rambunctious goats, Brownie and Butterscotch, who behave like 300 pound puppies, all of the moments I get with the animals are precious, and remind me why I am so invested in this work.