Name: Liana Thomason
Class Year: 2019
Major: English
Hometown: Berkeley, Calif
Internship Placement: Feminist Majority Foundation
Job Title: Feminist Campus Intern
Location: Arlington, Va.
What's happening at your internship?
I'm currently working in the Feminist Campus arm of the Feminist Majority Foundation. This part of the organization maintains charter and affiliate groups on hundreds of college campuses nationwide (including Fem-Co at Bryn Mawr). As an FC intern, I am in charge of organizing all the data of the college-affiliated groups and reaching out to student leaders. I also regularly contribute to the Feminist Campus blog. Additionally, I am working with another intern to start an online zine focusing on the politicization of the bodies of women and trans folks, published through FMF's sister organization, Ms. Magazine. Being in the Washington, D.C., area, I've been able to attend many rallies: for Planned Parenthood, against voter suppression, for Title IX, against the NRA, etc. I've also been able to lobby my senators on issues that are meaningful to me.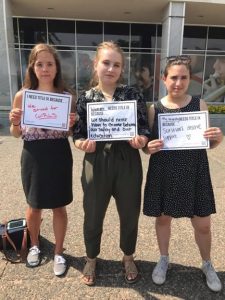 Why did you apply for this internship?
I wanted to get a taste of what it would be like to work at a national feminist nonprofit, and so far I feel like I've been getting the full experience.
What has been your favorite part of this internship?
I've been able to build connections with interns from all manner of advocacy groups in the D.C. area, as we join together to work on projects and then disperse. I'm thankful that I get to see what other people my age are doing and network with them.
Can you talk about the skills you are learning and why they are important to you?
I'm learning how to be self-sufficient and hold myself to deadlines and high quality standards even when I'm not being closely supervised. Instead of being motivated by a deadline, I get to do the work because I love it and it excites me.