Name: Natalie Kawam
Class Year: 2019
Hometown: Bernardsville, N.J.
Internship Placement: Cleaver Magazine
Job Title: Editorial Intern
Location: Philadelphia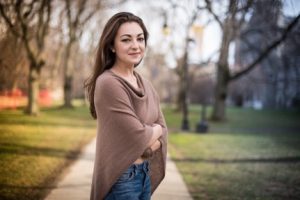 What's happening at your internship?
This summer, I am working as an editorial intern at Cleaver Magazine, a growing international literary magazine that celebrates both emerging and established artists of poetry, prose, short fiction, visual art, essays and nonfiction. My responsibilities entail selecting poetry for publication, writing book reviews to be published in Cleaver's "Book Review" section, and developing the "Life As Activism" blog, which serves as a literary platform to promote social justice.  Additionally, I am responsible for posting on Cleaver's Instagram account for the summer, where I promote artists featured in the magazine.
Why did you apply for this internship?
Bryn Mawr's Creative Writing department instigated my desire to pursue a career in editing and publishing. I believe this internship, one where I perform the tasks necessary for the production of a magazine, is laying the foundation for my career path. In the near future, my experience has helped me choose which courses I need to select for upcoming semesters in order to further my capabilities as a critical reader and writer. Overall, I have begun to understand the type of environment where I can imagine myself being successful, one with people who are as passionate about cutting-edge literature as I am.
Can you talk about the skills you are learning and why they are important to you?
Much of this internship involves honing my ability to select strong pieces of literature for the upcoming magazine issue. In other words, I'm learning how to identify which submissions do and do not identify with the publication's mission. As there are dozens of submissions daily, this is a succinct process. It's been a rewarding experience learning how to read people's work carefully and in a timely fashion.
Additionally, I'm also learning how to write formal book reviews, which will be edited by my superiors and published on Cleaver's website. This process is surprisingly familiar; last semester, one of my classes required that I read a book per week and write an in-depth analysis about the work. Book reviews are of the same breed. I'm learning how to write at length about a book's prevalent themes, nuances, style of craft, and so on.
What is most rewarding about your internship?
This internship offers an excellent opportunity to network, and I am gradually starting to recognize how many people of the writing sphere know each other. A number of my superiors not only provide me with guidance on how to best perform in my role as an intern, but also offer advice on choosing a career path. One of the editors even sparked my interest in pursuing a master of fine arts degree, a notion I now consider seriously.