Name: Victoria Tamura
Class Year: 2018
Major: Biology
Hometown: Tamuning, Guam
Internship Placement: OneHeartSource
Job Title: Health Innovation Intern
Location: Cape Town, South Africa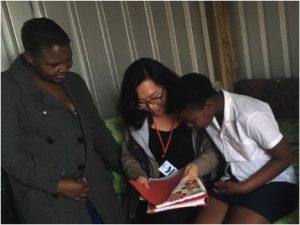 What's happening at your internship?
I am a proud mentor working with seventh graders at Oranjekloof Moravian Primary School. These bright students are on winter holiday, but they still choose to come to school because of their dreams of becoming doctors and healthcare professionals. As part of the Health Innovation program, we help them master their academics as well as educate them on medical issues and stigmas common in their community. Outside of school, we also volunteer with other groups within the community that need a helping hand.
Why did you apply for this internship?
I was instantly drawn to the program for its intimate community engagement within Cape Town. Also, as one aspiring to become a healthcare professional as well, I wanted to help foster the drive in the students to reach their goals and become educators of important health issues within their communities.
What has been your favorite part of this internship?
To help us in our interactions with our students and the community, the program has provided a few lessons on the Xhosa language and culture that are predominant to the area that we are working in. Xhosa is a unique South African dialect in that it is the only dialect that incorporates clicks into their alphabet. The entire process of learning the different clicks and greetings and practicing them with the locals has helped us open up to each other in the short amount of time we have. My students love assigning me homework on new Xhosa words, and we always have a lot of fun with it!
What has been the biggest challenge you have faced at your internship?
Traveling to South Africa with OneHeartSource has introduced me to so many people with similar passions and motivations for the program, but with any large group inevitably comes a lot of different and sometimes conflicting opinions on what is best. Despite the unavoidable discord, I highly appreciate all the respectful and thoughtful discussions that have come from the diverse group I was with. It was important to listen to each other's ideas as well as the community's needs in order to truly be effective. I'm grateful that OneHeartSource incorporated meaningful dialogues and encouraged safe spaces to share during this internship.