Name: Chloe Sheen
Class Year: 2019
Major: Computer Science
Hometown: La Crescenta, California
Internship Placement: Lemma, Inc.
Job Title: Software Developer
Location: Philadelphia
What's happening at your internship?
Lemma ​is creating an online learning platform for math, and this summer's focus has been to finalize the SAT/ACT test prep product. I have been mainly creating an open source library of mathematical figures and charts (using a Python library called Matplotlib). This new library of shapes would be essential in developing questions in not only the test prep modules but also the existing courses ranging from Algebra to Linear Algebra on Lemma.
Why did you apply for this internship?
The fact that this internship would be a drastic change from the jobs I had worked at before was a big decision factor for me. I wanted to experience how it is to work for a startup company, and it has definitely been a shift in environment and work flow. I also used the language Python extensively all summer and utilized Git much more frequently than I had been used to in classes during the semester.
What is something you have learned from your internship that you didn't expect?
For the few days into the internship, I wished to figure out whether I like the startup work environment or not. Having worked at Bryn Mawr before (with the Educational Technology team) as a summer intern, I had expected a similar workload and environment as the job descriptions were similar in many ways. However, the system of work was drastically different; coming from a pretty structured work flow to a more spontaneous start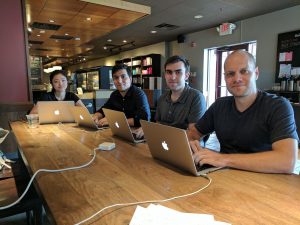 up environment was a definite change and a positive experience that I did not expect to appreciate so much in the end.
Can you give us three adjectives and three nouns that describe your internship experience?
Rewarding experience, demanding tasks, supportive team