Name: Romy Dangol
Class Year: 2019
Major: Mathematics
Hometown: Lalitpur, Nepal
Internship Placement: Tech Impact
Job Title: Data Services Intern
Location: Philadelphia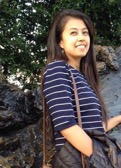 What's happening at your internship?
Tech Impact is a socially oriented nonprofit tech organization serving and providing other nonprofit clients with necessary technological resources.
It is always exciting at work because I am learning something new every day! Currently, I am involved in a number of internal as well as client-based projects. I am working on an interactive dashboard to help Tech Impact manage its day-to-day workload, and another dashboard to track the number of cases the organization has worked on and are working on. Making these dashboards is exciting because the visualizations are arranged using data streamed real-time.
I was also able to sit in numerous meetings, conference calls, and interviews with other nonprofits. In one of the client-based project I am currently involved with, I am helping with custom database loading. This project is very interesting in the sense that there are a number of us involved in it, each bringing in our own expertise. For me, it's a great learning opportunity as I get to see and understand how the strategic planning for those nonprofits clients are carried out and how technology consulting is done once their specific needs are accessed.
Why did you apply for this internship?
I applied for this internship after I learned about the company's mission. There are not many nonprofit tech companies that work towards providing low-cost technical solutions. Because of my interest in technology and data analysis, I was really curious to learn more about their work and how they manage to provide IT and data support to over 200 organizations.
What has been your favorite part of this internship?
The staff at Tech Impact are a fantastic group. They care so much about their clients and are determined to provide the best solutions. They are immensely helpful and supportive of each other and I am glad to have had this opportunity to work with them and learn from them.
What is most rewarding about your internship?
Being able to do what I enjoy and also playing a role in making a positive impact on the communities that we serve.