Name: Aisha Soumaoro
Class Year: 2020
Hometown: New York
Internship Placement: Dalun ICT Centre
Location: Dalun, Ghana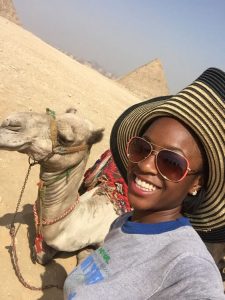 My name is Aisha Soumaoro. I am a rising sophomore at Bryn Mawr College, pursuing my computer science degree. I was born in Atlanta, Georgia, and for the first seven years of my life, I lived in Guinea, Conakry. Currently, my family and I live in New York.
In high school, I loved spending my free time volunteering and giving back to my community. In my high school career, I volunteered at Harlem Grown, where I dedicated my summer to clearing up vacated lots in order to plant healthy fruits and vegetables for Harlem residents. I also volunteered for Meals on Wheels, where every Sunday I would go door to door delivering meals to elderly people. In addition, I was a tutor at Democracy Prep Middle School, a translator at Sanctuary for Families, an office assistant, a babysitter, and a captain for my high school girls' soccer team.
While these may sound as a recitation of my resume, I view these organizations or activities that I have partaken in as stepping stones needed for me to reach my optimal life. They have helped me build my character.
I believe that being involved with the Dalun ICT Centre will allow me to continue exercising my values for authenticity, empathy, and kindness. With these values and the mixture of my love for computer science, I will be able to share my knowledge of art, Java, Python, and other basic computer skills with my peers on this fellowship. Furthermore, I am looking forward to being immersed in a community where its member shares all of these values.
Ghana, here we come!