Name: Mai Hoang
Class Year: 2019
Major: Economics and Math
Hometown: Ha Noi, Viet Nam
Internship Placement: ViCare.vn
Job Title: Sales and Project Management intern
Location: Ha Noi, Viet Nam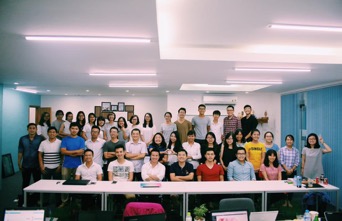 What's happening at your internship?
The startup that I'm interning at this summer is ViCare.vn, a healthcare platform in Vietnam that aims to connect Vietnamese people with healthcare services. I'm working both for the Project Management and Sales department at ViCare. My main responsibility during this internship is to help facilitate the connection between the company and clinics and help with promotion campaigns for ViCare's new project, which is a testing service. Besides the time at the office searching for clinics and hospitals and reaching out to them, I have the chance to meet with the company's investors and directly go to different clinics to meet a lot of experts in the field. I'm also in charge of various logistics tasks for the Sales department, specifically to take care of the sales kit design.
Why did you apply for this internship?
My experience at ViCare.vn last summer and my academic background provide me with strong foundation to do this internship. Last year, my brief internship at ViCare.vn as a Data Analysis and Project Management intern gave me valuable hands-on experience with a wide range of projects in a startup and allowed me to learn various technical skills. As a Project Management intern, I had the opportunity to work closely with different teams such as the Development team and Sales team to come up with new ideas and gather quantitative data to work on different projects. This has allowed me to broaden my knowledge about startups and project management and also helped me understand how sales and project management are greatly complementary. As a result, I was motivated to come back here and apply to work as a Sales and Project Management intern this summer. More importantly, ViCare.vn is a new startup that has been developing rapidly, providing an increasingly large number of services to users and connecting more and more Vietnamese with medical facilities. That's to say, the company is now running its various projects on a much larger scale, which requires greater expertise and further experience to operate. Therefore, there would be plenty of new things for me to learn during the internship compared to the short internship I had last year.
Was there anything special about how you found this internship?
I found this internship last summer (summer of my freshman year), but it was quite late in the summer when I found out about this. Actually, I was an audit intern at KPMG Viet Nam last summer when I heard about ViCare from a friend of mine. Although working at KPMG did a good job at introducing me to the field of audit, I found myself not really suitable for becoming an auditor while very interested in trying out a startup. For this reason, I was determined to apply to work at ViCare for the rest of my summer after my internship at KPMG ended.
What has been your favorite part of this internship?
Since this is a new startup (the size is not yet very big), I have the opportunity to communicate with and learn a lot from the people there. Especially, my manager once took me to go meet and talk with the company's investors. If it wasn't for ViCare, I wouldn't have such opportunity to do so.