Name: Tara Wadhwani
Class Year: 2018
Major: Political Science, French
Hometown: Pune, India
Internship Placement: The Nationalities Service Center
Job Title: Resettlement and Community Integration Intern
Location: Philadelphia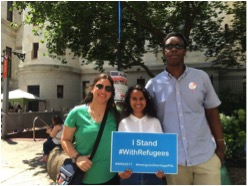 My role at the nationalities Service Center has been versatile, and I get to work on a really diverse variety of projects.
I started out mostly planning events that The Nationalities Service Center (NSC) was hosting, including a press conference in honor of World Refugee Day, as well as a World Refugee Day festival which took place in the City Hall courtyard. I've also been involved in client airport pickups and home visits, where we pick newly arrived refugees up from the airport and take them to their new apartments. I've also been doing a lot of French interpretations to help our clients communicate with their case managers, and vice versa.
My most consistent project has been working to gather resources for LGBT+ refugees, and helping to lay the foundations of a weekly support group for this community, who are among the most vulnerable clients at NSC.
I applied to this internship because I saw it as an opportunity to explore the ways in which nonprofits can work to address the needs of their diverse client-base, taking into account the different identities and intersections of identity using their services.
I was really fortunate that the coordinators of Summer of Service were in contact with my supervisor and knew my interests well enough to be able to connect me with her. Summer of Service was a great support system for me, and it was nice having Ellie and Vippy as a resource while I was stressed about finding a placement. I also really liked that NSC is located in Center City Philadelphia, and I got to know and explore the city much more than I ever had before, despite the fact that I am going into my senior year.
The biggest challenge I have faced at my internship is remaining culturally conscious and competent while spending time with the clients, especially during the LGBT+ support group. Because the populations NSC works with are often survivors of torture, human trafficking, and other trauma-inducing experiences, I aimed to listen intently, offer support, while still maintaining professional boundaries. Also, when discussing LGBT+ specific issues, I tried my best to refrain from imposing my own culturally specific understanding of these issues, and be open to the clients' individual perspectives