Name: Lillian Oyen-Ustad
Class Year: 2019
Major: Biology and History
Hometown: Rhinebeck, N.Y.
Internship Placement: Bryn Mawr College Department of Biology
Job Title: Research Assistant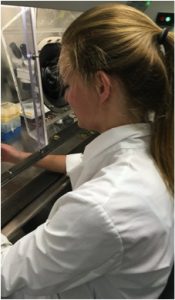 What's happening at your internship?
I am working in Bryn Mawr's biology department under the advisement of Dr. Karen Greif. We're currently studying the effects of a certain calcium-binding synaptic protein on the growth of axons in embryonic chickens. The ultimate goal of this study is to learn more about the way the brain creates networks during development. These highly specialized proteins are traditionally responsible for cellular communication, but we hypothesize that, by responding to local signals, the protein provides a stimulus for the growth of axons during development. To test this hypothesis, we've designed two experiments—the first examines the effects of removing all of the existing protein on axonal growth and the second attempts to view the effects of the protein with a decreased calcium binding ability.
Why did you apply for this internship?
At Bryn Mawr, I am majoring in biology with a strong interest in neuroscience and developmental biology. I had the privilege of taking three of my four biology classes with Dr. Greif and was chosen to work in her lab for the summer. This internship will allow me to gain experience with more advanced laboratory techniques and learn more about research as a profession.
What has been your favorite part of this internship?
Through this internship opportunity, I was honored with the Frances Velay fellowship via Bryn Mawr. Through stipends and networking opportunities that encourage women's involvement in the scientific field, I have had the chance to meet other fellows and discuss our individual research. I can say with full confidence that being a part of the collective impact supporting women in STEM fields has been one of my favorite parts of this summer.
Can you give us three adjectives and three nouns that describe your internship experience?
Dynamic, Valuable, and Didactic
Developmental neurobiology research