Name: Emily Hsu
Class Year: 2019
Major: English
Hometown: San Carlos, Calif.
Internship Placement: Canaday Library, Bryn Mawr College
Job Title: Digital Curriculum Intern
Location: Bryn Mawr, Pa.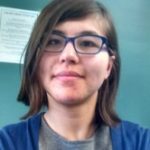 What's happening at your internship?
I'm working this summer as a Digital Curriculum Intern with LITS (Library Information & Technology Services) at Bryn Mawr College, where I'm working with my fellow interns to enhance our digital skills and learn how to implement technology so that its beneficial in education. In some of the projects that we've worked on thus far, I've gained more experience editing audiovisual media and I've learned about the Digital Competencies initiative, which is working to give students the opportunity to reflect upon and improve their digital skills. My fellow interns and I have been giving LITS feedback and researching ways for students and teachers to develop their digital competencies.
As part of my internship, I was recently able to attend and briefly present at a Digital Scholarship meetup, where I learned about many of the exciting ways that scholars are using technology to boost their research projects. In future projects, I anticipate that I'll be performing research and creating documentation for the Domain of One's Own initiative, learning more about the new Moodle features, and improving my own Digital Competencies along the way.
Why did you apply for this internship?
As an English major who is also very interested in tech, I wanted to do something that involved both of my passions. Learning how people integrate digital tools with the humanities in order to enhance education and research seemed like a great way to do that and has proven to be really fascinating. I also hoped to further develop my digital skills, like my audiovisual editing and my digital writing and publishing.
What has been your favorite part of this internship?
My favorite part has been working with and learning from all my fellow interns and from the LITS staff. Everyone is incredibly kind and smart, and they all make me want to be better and work harder.
What is something you have learned from your internship that you didn't expect?
I wasn't really expecting to gain so much useful advice on how to be more professional. Since my internship started, I've learned more about the importance of networking properly, how to be a better project manager, and even how to improve my LinkedIn.