Name: Jiayue Gu
Class Year: 2018
Major: Psychology
Hometown: Nanjing, Jiangsu, China
Internship Placement: Peer Experience Exchange Rostrum in No. 6 Yuanling Secondary and High School
Job Title: On-Site Faculty; Research Assistant
Location: No.6 Yuanling Secondary and High School, Guanzhuang Town, Yuanling County, Huaihua, Hunan, China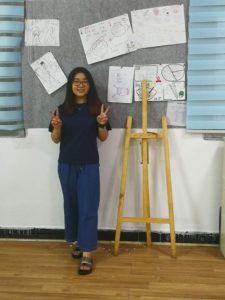 What's happening at your internship?
I am an on-site faculty from PEER and Prof. Heejung Park's research assistant at No. 6 Yuanling Secondary and High School. I am helping PEER build relationships with this rural school and help empower teachers from rural schools by introducing new concepts from the field of Education. Also, I am helping students from this rural school complete tasks required for a High School Students' Innovation Competition, such as making films, writing reflections and drawing pictures. Moreover, I am collecting data in this rural school for Professor Park's research project and my senior thesis by distributing daily diary checklists, one-time survey and Actigraph watches to every participant in the first grade of high school.
Why did you apply for this internship?
I volunteered in this school from PEER in previous summer vacation. Because of my previous summer vacation's experience, I wanted to continue to work with PEER in this rural school. Therefore, I applied for the job of on-site faculty. While I am working as an on-site faculty, because I have to write my senior thesis in the Psychology Department next year, I wanted to collect data by myself in this rural school in order to see how an appropriate psychology research is conducted in a field site.
What has been your favorite part of this internship?
My favorite part of this internship is empowering teachers in this rural school and how to appropriately collect data required by regulations from IRB and the field of Psychology. Because of having stayed in this rural school for one month, I got in touch with many teachers. They are all very interested in Western education and are willing to learn new concepts from the field of Education. I have already taught English Teaching workshop for teachers and have already done a presentation introducing teachers with some new concepts in the field of Education. I was happy to see that many teachers asked me how teachers in America teach students, what's the differences between Chinese education and Western education, and how can they motivate students to learn. Moreover, because I am the only on-site research assistant in this rural school, I have to think about the procedure of data collection carefully and have to check with the professor regularly in order not to violate the IRB's regulations. Because of collecting data all by myself, I am happy that I already understood the appropriate data collection procedure of conducting psychology research pretty well.
What is most rewarding about your internship?
The most rewarding about my internship is that I have a deeper understanding of rural education in China. Because I have been educated in urban schools in China, I don't know much about rural education and rural schools. However, because of having stayed in this rural school for one month, I saw many difficulties encountered by this rural school, such as the lack of educational opportunities, the lack of educational resources, the lack of high quality teachers and the lack of funding from government. Though it is difficult for this rural school to develop, many teachers and the principal welcome education reform and are making efforts to help make this school become better. Moreover, students in this rural school are very open and optimistic and are willing to participate in any kind of educational and extracurricular activities, though their SES is much lower than urban students' and their original families have different kinds of problems.