Name: Hayley Johnson
Class Year: 2018
Major: Physics
Hometown: Vienna, Va.
Internship Placement: Bryn Mawr Summer Science
Job Title: Researcher
Location: Bryn Mawr, Pa.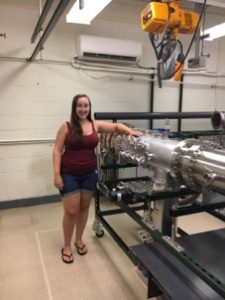 What's happening at your internship?
I'm doing computational work to identify a wave in the Large Plasma Device at UCLA. Rotating the plasma at certain speeds aids confinement, which is desirable for fusion purposes. But at those speeds we also see an unidentified wave cropping up that, based on my work, I now know is actually two waves. Data was taken last summer at UCLA, and now I'm running code to do data analysis and identify what kind of wave we're looking at.
Why did you apply for this internship?
I've been working in the plasma physics lab at Bryn Mawr for about a year and a half now, so it seemed natural to continue working in the lab over the summer. The work I'm doing now will also become my senior thesis this coming year.
What has been your favorite part of this internship?
We're partnered with a plasma physics lab down at Swarthmore, and it's been really fun getting to interact with the students in that lab. We meet up at least once a week, and it's a great opportunity to share our work and give each other advice about how to proceed. It's also been fun to interact with people outside of the Bryn Mawr community who are at the same stage in their physics career as I am.
What is most rewarding about your internship?
The most rewarding feeling is when I get a really complicated piece of code to work. The longer I spend on it, the better the feeling is when it finally runs.