Name: Manroocha Singh
Class Year: 2018
Major: Math
Hometown: Princeton Junction, New Jersey
Internship Placement: Play On, Philly!
Job Title: Intern/Teacher's Assistant
Location: West Catholic Preparatory High School (in West Philly)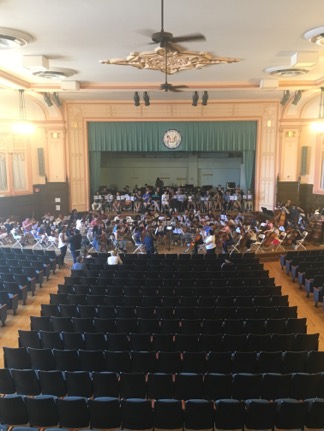 What's happening at your internship?
Play On, Philly! is an El Sistema based program that helps provide music education to students from the Philadelphia area — it aims to use intense, music education to help support students from diverse backgrounds. Recently, they've started a summer program that runs six weeks at a local high school. Classes range from private violin studio classes for different age levels to Exploratory music classes for students too young to start an instrument! The camp has two sections: an elementary/middle session that occurs in the morning, and a high school program that occurs in the afternoon. I primarily work with the elementary students in the morning.
I do a mix of logistical/admin work as well as teaching support in the Elementary Exploratory class. I help run the breakfast and lunch service (through a government-sponsored program), and in between help with supporting teachers both inside and outside the classroom. I get to specifically work with one class, where once I got to show the kids my bassoon and play Happy Birthday for them! 😀
Why did you apply for this internship?
I've been a bassoonist since about 2010, and music has been a very important part of my life since then. I've always seen it as an outlet from academic stress, and couldn't imagine my life without it. My supervisors for the Summer of Service program (through Civic Engagement) suggested for me to look into this program since I was interested in elementary education in order to combine two passions in my life.
What has been your favorite part of this internship?
My favorite part of this internship hands down has been working with the students — to see so much love and enthusiasm coming from the community, especially in support for music, has been so beautiful. Also, every two weeks, we put on a summer showcase to show to the parents what the kids have been learning. Even though these concerts are very short, they have been amazing to witness. Especially after seeing the handwork the students put in — four hours a day five days a week. To see how proud they feel and how happy their parents are afterwards/during the performance is really inspiring.
Was this internship what you expected it to be?
Honestly, this whole experience has been very surprising in the best way possible. I've established a very strong, almost mother-daughter relationship with my supervisor on site, and have learned a lot from being in the classroom and being in conversations with other teachers/admin/staff. In seeing both sides of the summer camp experience at Play On, Philly, it has really made me grow as a hopeful educator. This truly has been an eye-opening experience, but one of the best summers I've spent, and everything about it has only made me want to come back and continue to help out in the fall.