Name: Theresa Diffendal
Class Year: 2018
Major: Comparative Literature
Hometown: Pittsburgh, Pa.
Internship Placement: Au'Loni Magazine
Job Title: Editor and Staff Writer
Location: Philadelphia, Pa.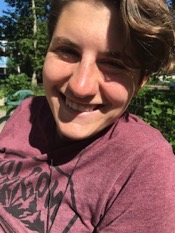 What's happening at your internship?
As the Editor and Staff Writer for Au'Loni Magazine, I am primarily responsible for writing 3-5 articles a month to be submitted to and then published on Au'Loni's website, aulonimagazine.com. Au'Loni Magazine is dedicated to highlighting game-changers, entrepreneurs, and innovators in every industry, so my articles largely center on small business owners, startups, and events that would interest or benefit them. For instance, I have interviewed an 8-year-old who owns her own lemonade business, the youngest individual to own a sports franchise in the U.S., a man who only employs formerly incarcerated individuals, and an event held by Philadelphia Assembled on co-ops for economic sovereignty in gentrified areas. I am also responsible for running a mini social media campaign; I post on the company's Facebook and Instagram accounts two or three times a week.
Why did you apply for this internship?
I am interested in pursuing a career in journalism after college and, as it is the last summer before I graduate, I knew I wanted an internship that would allow me to write articles and be published. I was aiming for more of a news internship, but I'm happy to have published works on topics on which I haven't writer before.
Was this internship what you expected it to be?
I expected the internship, as the magazine is for and about entrepreneurs, to glorify making lots of money. I did not necessarily want to write about those who profit from capitalism and the exploitation of others. So I've been pleasantly surprised to find that my boss has encouraged me to research those who have a philanthropical side, such as the man who owns a sports franchise and uses his revenue to aid his hometown of Flint, Mich., during the water crisis, or under-represented communities, such as people of color and those disenfranchised by the school-to-prison pipeline.